School Advisory Committee (SAC)
2023 - 2024
All meetings will be on Thursdays at 3:30pm in our Media Center!
August 24th
September 21st
October 19th
November 16th
December 14th
January 18th
February 15th 
March 21st
April 11th
May 16th
These dates will also be on our OMES calendar!
*Dates are subject to change; notice will be provided in advance.
School Advisory Committee (SAC)
All parents please complete the survey by clicking on the link to provide feedback about your child's education and our school. Click here!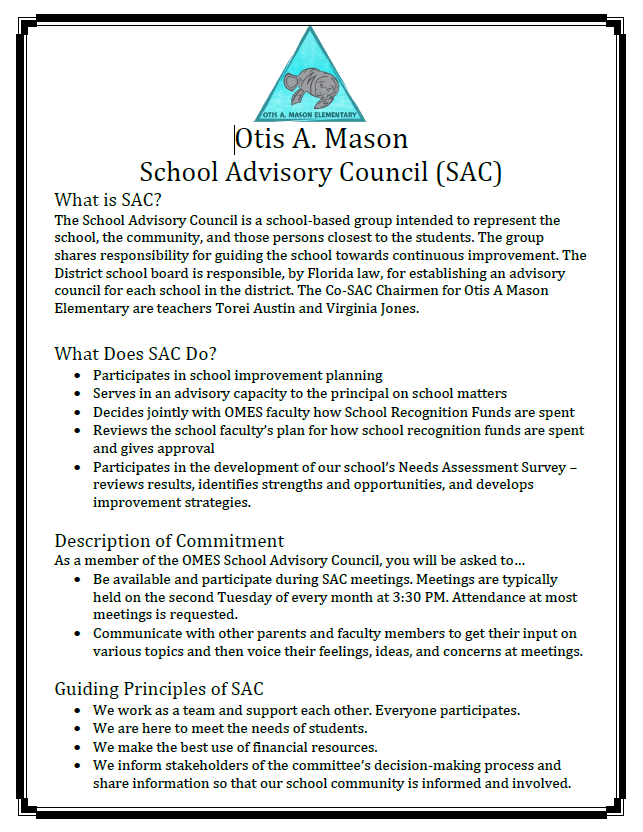 Meet our 2022-2023 SAC Parent Liaison:
I would like to introduce myself. I am Alice Flores, mother to five young girls with three attending Otis A. Mason Elementary (3rd grade, 1st grade and Kindergarten, and two littles at home). I am very excited and honored to be serving as your new Parent Liaison in the School Advisory Committee (SAC) where I will be representing your voice and giving light to various important topics!
This is my second year on SAC offering a parent's perspective to the school improvement plan, end of year parent-teacher survey and fund distribution. I will attend our monthly meetings on your behalf addressing any questions or concerns anonymously.
In addition to an advisory role, it is our goal to streamline SAC and PTO unifying parent involvement and awareness. I also serve as the Volunteer Coordinator for the PTO assisting in fundraising, donations and school spirit.
Each month, I will be scheduling a guest speaker to appear in our meetings to discuss school programs, student incentives and district-wide initiatives that effect our Mason family. I encourage you to join SAC and am eager to receive any feedback so we may improve your educational experience!
You may email me at [email protected]
Mrs. Alice Flores, SAC Parent Liaison
A Word From Our 2022-2023 SAC Chair, Mrs. Ziegenfuss
Hello Mason Family,
      We're so excited to invite you all to our upcoming SAC meetings. Our parent liaison is setting up a series of speakers to help create a better understanding of our school and culture. Please share the invitation with any parents or guardians who would have an interest in supporting and participating in school decision-making. You do not have to be an official member of SAC to join us, but we're always excited to welcome new members.
SAC welcomes you to join us for our upcoming meeting! We will have a different guest speaker every meeting, hoping to grow our community and culture.
Mrs. Mary Ziegenfuss, SAC Chair