Be sure to visit our Scholastic Book Fair site!
The Book Fair is open every day from 8:15am until 3:30pm. Our extended hours day is Friday, January 21st from 8:15am until 6:00pm.
Parents, set up an eWallet for your students to streamline purchasing. Watch for your teacher newsletter information with specifics about classroom visit times. We encourage parents to shop with their children at every opportunity.                                     
All volunteering opportunities can be found on the PTO Otis A. Mason Facebook site. Volunteers are welcome and needed!
Questions? Please contact Leslie Bendt.
At Mason Elementary, we believe student success is fostered by a continuous commitment to improvement, which ensures well-rounded and motivated learners. We do this by maintaining a safe and dynamic learning environment, promoting high expectations for all students, nurturing determination, developing personal relationships, and involving our community.
The "Mason Way" is one that nurtures a passion in every child for personal success, good character, and a desire to learn, explore, and better themselves as they grow to be responsible members of our community.
School Information:
Office Hours: 
M-F 7:55am–3:45pm
Main Office:
(904) 547-8440
Fax:

(904) 547-8445 
Clinic: 
(904) 547-8444
Registration: 
(904) 547-8436
School Hours:
Arrival – 8:00am
Classes Begin –8:25am
Dismissal –

2:45pm – Mon, Tues, Thurs, Fri
1:45pm – Wed (Early Release)
Attendance is extremely important for students to be successful at our school. It is also important that students arrive at school on time, and ready to learn! Parents are encouraged to utilize school bus transportation. Daily drop off begins at 8:00am. If your child arrives after 8:25am, you will need to come inside the school to sign them in.
If your child is absent from school, a parent/guardian must turn in a written signed note or a doctor's note within 48 hours for the absence to be considered excused, upon the students return to school. Phone calls will not be accepted. We appreciate your support.
Early Dismissal & Dismissal Changes
For the safety of all students, children may not be checked out of school after 2:15pm on Monday, Tuesday, Thursday or Friday and 1:15pm on Wednesday.
If you need to change the way your child goes home in the afternoon or for an early dismissal, please complete our Dismissal Change Request Form. Handwritten notes are no longer accepted. 
Please Note: Early Dismissals – We do not send children to the front office until you have arrived and shown your photo ID to the front office staff. Dismissal Changes – Can only be accepted before 2:10pm (1:10pm on Wednesdays).
We cannot accept phone calls for those changes. Changes in afternoon transportation should only be for emergency situations. Thank you for your understanding. 
Featured Links
Parent & Student Information
School District Information
Join Otis Mason PTO! It's a new school year, join us! JOIN HERE!
Plan for upcoming projects and activities with PTO. If you have any questions, please email us!
Mason Manatee Memo for Monthly School News & Events:
St. Johns County School District Head Start provides a free pre-school program and comprehensive health and social services to eligible three- and four-year-old children and their families living in St. Johns County. Head Start is for income eligible families, proof of income is required.
2021-2022 Instructional Materials Adoption for Mathematics UPDATE
St. Johns County School District curriculum department representatives and adoption committee members have completed the review process for the Instructional Materials Adoption for Math. On January 25, 2022, the School Board will conduct a public hearing to receive comment from the community regarding the final list of recommendations for instructional resources for this adoption. The public is invited to attend this hearing. The hearing will be held at 9:00 a.m. in the auditorium of the District Administrative Building located at 40 Orange Street in St. Augustine.
We encourage parent and community participation in our adoption process. Please visit our Instructional Materials Adoption web page to:
View the resources that are being considered for adoption.
Find out how to serve on a school committee and formally review the resources as a part of the school review team.
Learn more about the policies and procedures for textbook adoption.
B.E.S.T. Standards Presentation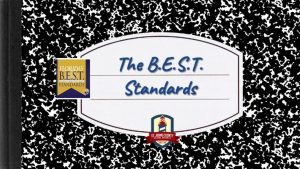 The purpose of the video is to provide parents and community members with information about the new B.E.S.T. Standards for English Language Arts and math. The video also explains the timeline for the implementation of the new standards.
View the B.E.S.T. Standards Presentation
Apply Now for the SJCCA Program at R.J. Murray Middle School
Families of Current SJCSD 5th Graders,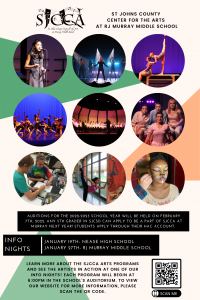 All rising 6th grade students are eligible to apply for admission to the award-winning St. Johns County Center for the Arts (SJCCA) at R.J. Murray Middle School. For over 20 years, SJCCA has been a county and state leader in arts instruction. SJCCA students consistently receive the highest ratings and awards at regional and state competitions. Students who attend SJCCA programs have the opportunity to learn and perform at prestigious locations including the St. Augustine Amphitheater, Broadway, and Walt Disney World. SJCCA students often continue to future arts success at prestigious post-secondary institutions.
To learn more about SJCCA, please visit the MMS SJCCA website or attend one of the following informational sessions:
Tuesday, January 18th at 6pm - Virtual Meeting
Wednesday, January 19th at 6pm at Allen D. Nease High School
Thursday, January 27th at 6pm at R.J. Murray Middle School
Ready to Apply?
All rising 6th graders may apply by completing the general application in
Home Access Center (HAC)
until
February 10, 2022.
Auditions at R. J. Murray Middle School will occur on February 7, 2022.
FortifyFL is a website and app developed at the direction of the Florida Legislature. Any student, educator, parent or member of the public can report school safety concerns directly to law enforcement and school administrators anonymously and easily through the FortifyFL app or getfortifyfl.com.