At Mason Elementary, we believe student success is fostered by a continuous commitment to improvement, which ensures well-rounded and motivated learners. We do this by maintaining a safe and dynamic learning environment, promoting high expectations for all students, nurturing determination, developing personal relationships, and involving our community.
The "Mason Way" is one that nurtures a passion in every child for personal success, good character, and a desire to learn, explore, and better themselves as they grow to be responsible members of our community.
School Information:
Office Hours: 
M-F 7:55am–3:45pm
Main Office:
(904) 547-8440
Fax:

(904) 547-8445 
Clinic: 
(904) 547-8444
Registration: 
(904) 547-8436
School Hours:
Arrival – 8:00am
Classes Begin –8:25am
Dismissal –

2:45pm – Mon, Tues, Thurs, Fri
1:45pm – Wed (Early Release)
Attendance is extremely important for students to be successful at our school. It is also important that students arrive at school on time, and ready to learn! Parents are encouraged to utilize school bus transportation. Daily drop off begins at 8:00am. If your child arrives after 8:25am, you will need to come inside the school to sign them in.
If your child is absent from school, a parent/guardian must turn in a written signed note or a doctor's note within 48 hours for the absence to be considered excused, upon the students return to school. Emails and phone calls will not be accepted. We appreciate your support.
Early Dismissal & Dismissal Changes
For the safety of all students, children may not be checked out of school after 2:15pm on Monday, Tuesday, Thursday or Friday and 1:15pm on Wednesday.
If you need to change the way your child goes home in the afternoon or for an early dismissal, please complete our Dismissal Change Request Form.
Please Note: Early Dismissals – We do not send children to the front office until you have arrived and shown your photo ID to the front office staff. Dismissal Changes – Can only be accepted before 2:10pm (1:10pm on Wednesdays).
We cannot accept phone calls for those changes. Changes in afternoon transportation should only be for emergency situations. Thank you for your understanding.
Join Otis Mason PTO! It's a new school year, join us! JOIN HERE!
Plan for upcoming projects and activities with PTO. If you have any questions, please email us!
Mason Manatee Memo for Monthly School News & Events:
St. Johns County School District Head Start provides a free pre-school program and comprehensive health and social services to eligible three- and four-year-old children and their families living in St. Johns County. Head Start is for income eligible families, proof of income is required.
2021-2022 Instructional Materials Adoption for Mathematics
The St. Johns County School District curriculum department formally announces the review process for the 2021-2022 Instructional Materials Adoption for Mathematics. The core resources that have been submitted for evaluation have come from the state adoption bid list and other submitted resources from publishers when available. Additional resources for advanced programs may be reviewed from materials listed as appropriate for the program indicated.
Please visit the instructional materials website to view the resources that are being considered for adoption. If you would like access to any available printed materials or require assistance reviewing the online resources, please call the Instructional Resources and Media Services office at 904.547.3947. Materials are available for review from 8:30 a.m. - 4:30 p.m.
We encourage parent and community participation in our adoption process. If you would like to serve on a school committee and formally review the resources as a part of the school review team, please contact any school or our office at 904.547.3947.
To learn more about the policies and procedures for textbook adoption, visit the Florida Department of Education Instructional Materials Website.
B.E.S.T. Standards Presentation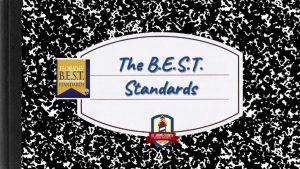 The purpose of the video is to provide parents and community members with information about the new B.E.S.T. Standards for English Language Arts and math. The video also explains the timeline for the implementation of the new standards.
View the B.E.S.T. Standards Presentation
FortifyFL is a website and app developed at the direction of the Florida Legislature. Any student, educator, parent or member of the public can report school safety concerns directly to law enforcement and school administrators anonymously and easily through the FortifyFL app or getfortifyfl.com.