Student Arrival Time:  8:00 am
Student Departure Times: M, T, Th, F- 2:45 pm
Student Departure Times: W- 1:45 pm
Arrivals:
Parent drop off begins at 8:00 am. This is the earliest the front doors of the school are open for access.
Students must be in class by 8:25 am.  Any student being dropped off in parent drop-off after 8:25 must be escorted into the front office and signed in before they can be released to class.
Breakfast is not served after 8:25 a.m.  If your student arrives after 8:25, please make sure he/she has already had breakfast.
Departure:
Student checkouts or transportation changes can not be accepted after 2:15 pm. on Monday, Tuesday, Thursday and Friday AND after 1:15 p.m. on Wednesday. Changes this late in the school day become confusing and may result in students not being routed appropriately. Please be sensitive to this issue and arrange all changes in transportation accordingly.  Please address any questions to Administration.
Safety for Departure Requests: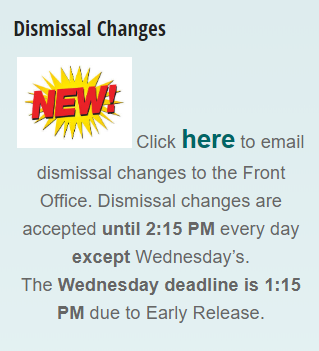 We no longer accept phone call transportation changes for our students. We must receive a written request in your child's planner (or written separately on a piece of paper), an emailed request, found on the Main page for Mason, upper right hand corner, or or by fax to 904.547.8445. Always include your child's full name and teacher name. Include a phone number where you can be reached. All requests must be made by 2:15 pm on Monday, Tuesday, Thursday, and Friday, and by 1:15 pm on Wednesday. Please note that requests to ride a different bus are subject to seating availability and must be approved by the bus driver. This policy has been put in place to ensure that only parents or legal guardians request transportation changes. You will be called to verify a change that is sent in by fax. Please address any questions to Administration.