The Manatee Essentials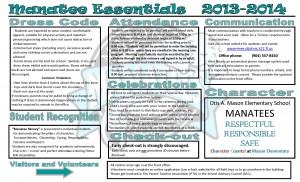 Click on the Manatee Essentials icon above for a larger view of important school information.
 Our Vision     
To have a community of lifelong learners. 
Our Mission  
Mason Elementary School strives to meet the individual needs and maximize the potential of every child. 
School Policies 

School Hours 8:30am – 2:50pm Monday, Tuesday, Thursday, and Friday

8:30am – 1:50pm Wednesday

Student Access Time

8:00am – 3:00pm (2:00pm)

Parent drop off time begins at 8:00 AM and students must be in class no later than 8:30 a.m.  If your student does not arrive in parent drop off in time to get to class before the tardy bell rings at 8:30 a.m., you are required to walk your child in to the front office and sign him/her in. Breakfast is not served after 8:25 a.m.  If your student arrives at school after this time, please make sure he/she has already had breakfast. *Student checkouts or transportation changes are not allowed after 2:30 p.m., Monday, Tuesday, Thursday and Friday AND after 1:30 p.m. on Wednesday. Changes this late in the school day become confusing and may result in students not being placed appropriately. Please be sensitive to this issue and arrange any changes in transportation prior to 2:30 p.m. Please address any questions to Administration. [divider] Attendance and Tardies Attendance is extremely important for students to be successful at our school. It is also important that students arrive at school on time and ready to learn! Parents are encouraged to utilize school bus transportation.  


Welcome Mason Volunteers! We welcome anyone who has an approved volunteer application on file into our school! If you do not have a Volunteer Application on file you can fill one out online (see School Information). The safety of our students is our top priority. Due to this, all visitors and volunteers are required to show picture ID and sign in on our Keep-n-Track computer system before receiving a guest badge to enter the building. Thank you for your cooperation! Fill out the Volunteer/School Access Application

Manatee News!

 

District News, School Forms and Information

 

Manatees are "Reading to Succeed"! AR is a reading incentive program. Your child reads a book on his or her level, takes a quiz online at the AR website, and earns points! Click below to see point goals for each grade level. These are attainable for all students! Log onto Accelerated Reader using your child's username and password to check their current quiz scores, book levels, and the number of points earned. AR Home Connection Parents can use this link to see student AR quiz scores. Use your student's AR username and password.

FLORIDA DEPARTMENT OF EDUCATION

Parent Newsletter http://parents.fldoe.org/newsletter

Parents as Partners Newsletter

  Character Counts at Mason!
Learn about St. Johns County School District's new instructional evaluation system that will advance student growth and academic achievement.   District Information

Quick Links

PARENT RESOURCES

Important Testing Information

Spring 2014 RMS Parent letter_PBT_FINAL

2014 CBT Parent Letter from Principal

Parents as Partners – Spring ESE Newsletter

View our School Public Accountability Report (SPAR)

 Click Here

School Improvement Plan Mason SIP 2013-2014

See our School Improvement Plan online by clicking here:

Mason Parental Involvement Plan 2013-2014

SJCS District Parental Involvement Plan

District Parent Resource Guide Academically Challenging Curriculum to Enhance Learning (ACCEL) options are available. Parents who wish to consider course or grade level acceleration should review eligibility criteria and process referenced in the District Student Progression Plan and Parent Resource Guide.

Come out to this FREE Parent Education Event!

Community Empowerment Parent Involvement

Hear from leading experts and nationally recognized speakers who will address such issues as cyberbullying, cybersafety, body image and bullying prevention. It will be held on March 29th at St. Augustine High. Take advantage of this sensational, one day event!
chool Spirit Day
EVERY Friday is School Spirit Day at Mason Elementary!
Wear your manatee shirt and/or school colors (Teal & Gray) to show your school spirit.