Welcome to the Otis A. Mason Elementary Web Site!
The Mason web site is an information resource for our parents, students, teachers, staff, business partners, and community members. Please check here often for the latest information concerning academic affairs, school and community events, Mason news and student accomplishments.
Our School Vision
Our vision at Otis A. Mason Elementary is to have a community of lifelong learners. 
Our Mission  
At Otis A. Mason Elementary School we strive to meet the individual needs and maximize the potential of every child.
_____________________________________________________________________________________________________

School News and Updates
Order your NEW Manatee Spirit Wear now!

spirit wear order form 14-15

New Assessment Information for Parents
Click the link below for important information regarding our new statewide assessments in Florida and how you can help to prepare your student for success.
Florida Standards Assessment Information for Families
Dr. Joyner's Welcome Back Information
CHOICE LETTER 
2014 Economic Security
Gifted Screening Timeline
GIFTED SCREENING

Community News
The St. Johns County Salvation Army is now taking applications for their annual Thanksgiving Assistance and Christmas Angel Tree programs.
Dates:
October 16th: 9AM-12PM / 1PM-3PM
October 21st: 9AM-12PM / 1PM-3PM
October 23rd: 9AM-12PM / 1PM-3PM
October 28th: 9AM-12PM / 1PM-3PM
October 30th: 9AM-12PM/ 1PM-3PM
Locations:
The Salvation Army Social Services: 1850 State Road 207
The Salvation Army Worship Center: 1425 Old Dixie Highway
Angel Tree Serves:
****Children 12 years old and under only****
For more information, call (904) 819-9821 or (904) 824-6956 ext 4404

All applicants must bring the following:
Picture Identification-Valid with current address

Proof of residency in St. Johns County-Current Lease/Mortgage Statement Social Security Cards for everyone in household-Original

Birth Certificates for all children or shot records-Original

Proof of legal Guardianship (if not parent)

Proof of ALL household income:
1. Food stamp award letter, TANF Letter
2. 4 current pay stubs, social security income, SSI and SSDI income 
3. Tax returns for previous year
4. Bank Statements


5. Relative Care Letter

All current monthly bills

One suggested gift that your child would like Clothing and shoes sizes 
Summer Reading Information
Our manatee readers accepted our challenge of reading every day this summer and filling out their reading logs! You all rock! The prizes for summer reading have been ordered and are on their way! Check back for announcements about our Manatee Summer Readers!
Registration is OPEN
The 2014-2015 school year Kindergarten and school registration is NOW!  Click here for registration requirements.
Mason Registration Forms  
Click the above link to print registration forms.
2014-15 Student Supply Lists
Pre-K & VPK Student Supply List
Kindergarten Student Supply List 2014-2015
First Grade Student Supply List 2014-2015
Second Grade Student Supply List 2014-2015
Third Grade Student Supply List 2014-2015
Fourth Grade Student Supply List 2014-2015
Fifth Grade Student Supply List 2014-2015
Mason is AVID Strong!
Find out how the AVID system is helping our students prepare for a successful future! Click here for more information about how the AVID system is being implemented in your child's classroom.
Mason's Online Newsletter
View our newsletter online where you can find more information about school events and student achievement. Our online newsletter is published every two weeks during the school year. Enter your email address on the page to receive the Manatee News school newsletter in your email.
_____________________________________________________________________________________________________
Manatees Give Back: ASL and Wounded Warrior Challenge
__________________________________________________________________________________

School Policies
Student Arrivals and Departures
Student Access Times:  8:00am – 3:00pm (2:00pm)
Parent drop off time begins at 8:00 AM and students must be in class no later than 8:30 a.m.  If your student does not arrive in parent drop off in time to get to class before the tardy bell rings at 8:30 a.m., you are required to walk your child in to the front office and sign him/her in. Breakfast is not served after 8:25 a.m.  If your student arrives at school after this time, please make sure he/she has already had breakfast. *Student checkouts or transportation changes are not allowed after 2:30 p.m., Monday, Tuesday, Thursday and Friday AND after 1:30 p.m. on Wednesday. Changes this late in the school day become confusing and may result in students not being placed appropriately. Please be sensitive to this issue and arrange any changes in transportation prior to 2:30 p.m. Please address any questions to Administration.
Attendance and Tardies 
Attendance is extremely important for students to be successful at our school. It is also important that students arrive at school on time and ready to learn! Parents are encouraged to utilize school bus transportation.
Click the image below to see our Manatee Essentials Chart for more information about our Student Code of Conduct and school expectations.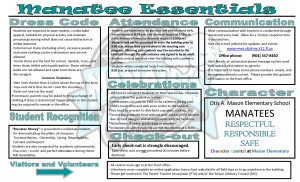 Welcome Mason Volunteers! We welcome anyone who has an approved volunteer application on file into our school! If you do not have a Volunteer Application on file you can fill one out online (see link below). The safety of our students is our top priority. Due to this, all visitors and volunteers are required to show picture ID and sign in on our Keep-n-Track computer system before receiving a guest badge to enter the building. Thank you for your cooperation!
Fill out the Volunteer/School Access Application
Click here and get involved as a volunteer at Mason! We NEED you!
---